ElektroG 2018: The Open Scope
Changes to ElektroG in 2018: More electronic equipment must now comply with the ElektroG
A number of new legal provisions for the sale of electronic equipment come into force this year. The new provisions of the Waste Electrical and Electronic Equipment Act (ElektroG) concern not only the suppliers of typical electronic equipment, such as lamps and household appliances, but also companies that sell furniture or clothing with electrical functionality. For example, as of 15th August 2018 electrically adjustable desks and smart textiles will have to be registered.
The scope of the ElektroG was expanded to a so-called Open Scope, so that the ElektroG now also covers additional electronic Equipment:

What do companies affected by the new ElektroG need to look out for?
Manufacturers, retailers and importers of clothes and furniture with electrical functionality now need to take action if they want to continue to comply with the law.
Since 1st May 2018, companies have been able to register their products with the respective authorities in accordance with the new legal regulations
In Germany, the national register for waste electrical equipment (stiftung ear) is responsible for registering companies' electrical equipment. For electrical equipment that now needs to conform to the law due to the introduction of the Open Scope, applications for registration can be made with stiftung ear starting from 1st May 2018. At the moment, registration takes at least eight weeks. If the application is not completed correctly, the registration procedure may be delayed by several weeks. All products must be registered by 15th August 2018.
What companies should now do in response to the changes to the ElektroG
The following hints may be a starting point for the companies concerned:
Check your product range carefully: Companies need to get an overview of which of their products require registration.
 
Assign your products to the right categories: In order to register their products with stiftung ear, companies need to assign the electronic equipment to the appropriate product categories. In some cases, it will be necessary to measure the dimensions of the products. weee full-service has published a decision tree with guidelines for measuring the dimensions.
 
Register your products: In order to apply for registration with stiftung ear, companies need a service provider for the disposal of the waste products, details of the brands sold, pictures and German-language descriptions of the products, as well as their tax identification number.
 
Start selling: As soon as registration with stiftung ear has been completed, companies will receive a WEEE registration number and are then allowed to sell their electronic products. The WEEE registration number must be included on invoices and offers, for example.
Open Scope: What do companies that have already registered need to look out for?
Even companies that have already registered are affected by the changes. As a result of the Open Scope system, the number of categories has been reduced from ten to six. In future, products will primarily be assigned to a category according to size rather than function. We have put together an overview of the new allocations together with a number of examples.
Automatic transfer procedure for electrical and electronic equipment
Stiftung ear will automatically transfer all registered products to the new categories on 26th October 2018. For each existing product category, a successor category has been defined. Companies need to check whether the automatic transfer procedure has assigned their products to the correct category. We have published an overview showing the old and the new types of equipment.
Checking that electrical equipment is correctly transferred
The decision tree in the figure should help companies to assign their products to the correct categories. You may have to measure the dimensions of your equipment. For example, stiftung ear needs information about the length of its sides or its screen size in square centimetres. To help you with this, we have published a video (in German) and stiftung ear has published corresponding instructions.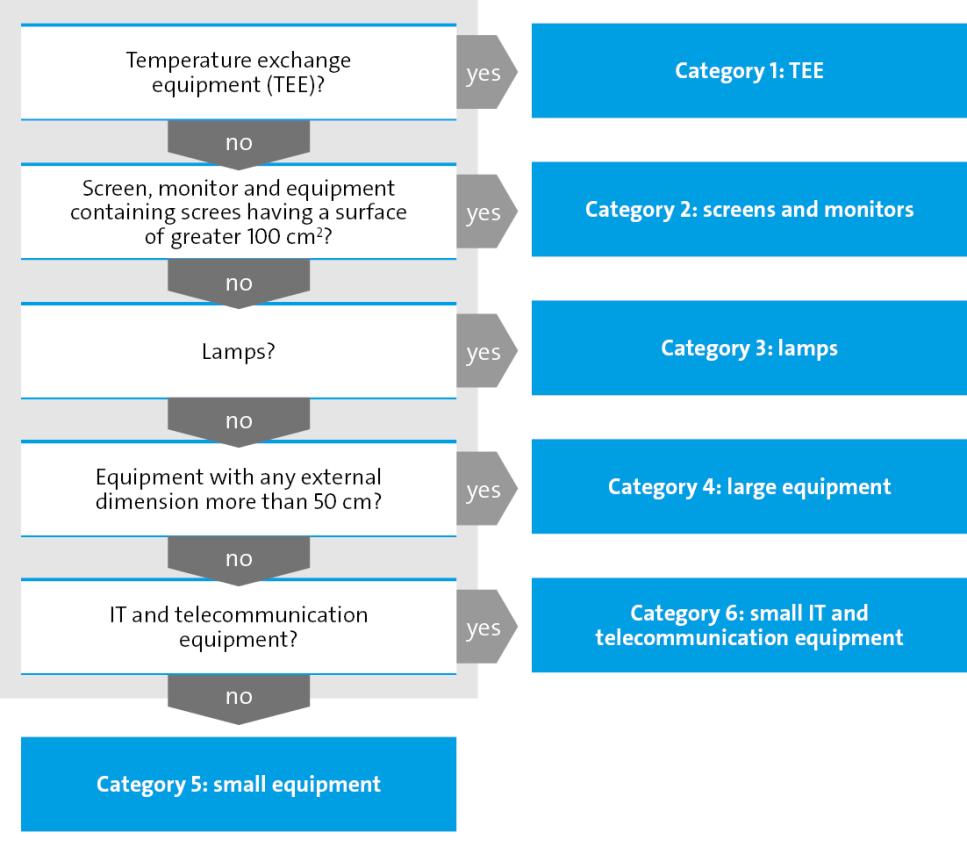 Source: stiftung ear / weee full-service
Applying for a change in category
If your company's products have ended up in the wrong categories, because they were incorrectly assigned during the automatic transfer procedure, you must submit applications for them to be switched to the new categories by 15th November 2018. 
Example: Loudspeakers are currently assigned to the category "Other consumer electronics equipment". After the automatic reassignment, loudspeakers are assigned to the category "Small household appliances". However, loudspeakers that are larger than 50 cm are considered "Large household appliances". The manufacturers of such loudspeakers must apply for their re-allocation themselves, by submitting an application to stiftung ear before 15th November 2018.
Review whether the righ disposal contractor is assigned at the EAR-Portal
In order to ensure that waste electrical equipment continues to be disposed of correctly, manufacturers also need to check their registration at sitftung EAR and see whether the right disposal contractors have been assigned to the new categories. This is because not all disposal contractors are able to handle all collection groups. More Information about the changes in the collecting groups you can find in the guest contribution of the disposal company NOEX. 
Charges payable to stiftung ear
When registering new devices, such as furniture or items of clothing, the usual application fees are payable to stiftung ear.

No charge is made for the automatic transfer of electrical and electronic equipment. However, if your products are not assigned to the correct category and you apply for the assignment to be changed, stiftung ear will charge a fee for this. An overview is available here (only in German available).
What happens when I am not registered orderly with the ElektroG? 
When companies have not taken the necessary precautions at the effective date, they risk fines up to 100,000 Euro and warnings by competitors. Moreover, In the past, large online marketplaces have repeatedly been warned online-shops and banished them from their platform when they offered non-registered products.
Furthermore, the Federal Environmental Agency (Umweltbundesamt, UBA) announced that it would be monitoring adherence to the new legal requirements very closely and proceedings for regulatory offences.
Current status in other EU countries
The Open Scope category is also being introduced in other European countries in line with the WEEE Directive 2012/19/EU. Certain countries, such as Austria, have already implemented the changes. Some European countries do not intend to introduce the Open Scope system until 1st January 2019. 
More Information on this Topic you can find in our news:
Since implementation varies from one EU country to the next, manufacturers of electrical equipment should find out in good time the current situation in the respective countries in which they operate. For example, several subcategories may be introduced as well as changes in the pricing system. It may also be necessary to register new products.
 
Helpful links